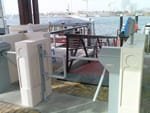 Automated Fare Collection (AFC)
Energy International Corporation's Transportation Division have successfully implemented and are currently maintaining the interoperable Automated Fare Collection Systems for the Public Buses, Marine Buses and Parking for the City of Dubai, UAE. Our team of trained managers, engineers and technicians that collectively perform to assure handling of over 1,000,000 automated fare collection transactions per day on 15,000 street devices in the city of Dubai.
E-Ticketing Fare Collection Systems
The e-Ticketing system provides passenger the ability to pay electronically for various modes of transport such as, Trains, Buses, and Water Buses. Basically, the passenger will have to tap his/her payment card on a device to initiate the payment required upon entering any mode of transport. Upon exiting the passenger will have tap the card again to close the transaction and inform he system that his/her journey has ended. The system then calculates and deducts the fare based on preset conditions and business rules.
Hand held ticketing machines
Hand held ticketing machines are designed to replace paper tickets and speed up mobile fare collection and inspection for all mass transit transit systems. The systems can improve reliability, security and speed of transaction while reducing cost. The system can also streamline travel between different modes of transit and the data can be used to determine passenger flow. EIC has installed more than 5,200 devices on 1,200 buses in Dubai as part of an ongoing upgrade of the Dubai transit system.
Hand-held enforcement devices
Hand-held ticketing machines are designed to reduce the number or errors made when issuing tickets for parking violations. The device uses a combo-box menu to enter data before the final citation is printed. The data is stored in the hand-held system and entered into the main data system at the end of the enforcement officer's shift.
Parking control management systems
Automated barrier parking systems are a convenient way to manage pay-for-parking facilities around the clock. EIC is an experienced provider of automated parking equipment, having installed the first system in 1988 at the Dubai International Airport. We can help you choose the right system for your needs and provide you with installation and preventative and operational maintenance.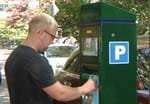 Parking pay-and-display terminals
Pay and-display terminals play a vital role in regulating parking in urban areas and car parks. The system is easy to use. The vehicle owner purchases a ticket using cash, debit card or credit card and displays the ticket on the vehicle's dashboard, windscreen or passenger window. EIC has helped install more than 4,000 pay and display terminals throughout the UAE.
Universal card vending machines
Universal card vending machines are commonly used to dispense pre-paid transit cards for use by daily commuters, but these machines can be custom designed to handle any type of card from pre-paid phone cards to debit cards. EIC can help design the right machine to meet your needs.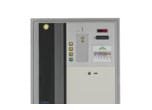 Universal card/coin change machines
Universal card/coin change machines are designed for heavy-duty, large volume operations and feature high speed coin counters and automatic coin bagging systems.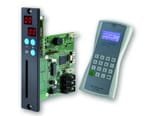 Card Scanner
The card scanner uses RFID technology to scan smart cards used for paying fares on buses, trains and other forms of public transportation. The system can be supplemented with an electronic bill acceptor and coin collector so that coins, tokens, bank notes and bank cards can also be accepted. A layered approach and a PIN code ensure a high level of system security.
Load Master
The Loadmaster is a load balancing and Layer 7 content switching appliance with SSL Acceleration and Advanced Delivery and Optimization (ADC) features. The system is designed to intelligently and efficiently distribute user traffic among web and application servers to ensure users receive the best service possible. The device gives IT administrator's greater control and enables them to easily adapt to network changes by providing a resource optimization layer in front of applications and servers.
Smart-Meter
Smart Meter integrates all of the systems in a parking structure allowing for more efficient operation. For example, Smart Meter eliminates lost revenue due to "Piggybacking" and can be used to guide enforcement personnel to infringing vehicles, saving time and increasing revenue. The wireless system is easy to install with little encroachment on existing construction and has no impact on existing IT infrastructure.
Ticket Printers
Ticket printers are integrated into stand-alone ticketing kiosks and pay-to-park kiosks. They are designed for universal applicability and can be controlled using either an RS232 inter-face or an MDB port. The printer's ability to store logos and generate barcodes frees the controlling software from this responsibility. The communications protocol is easily integrated into applications. The Printer-Config software can be used to set all printer parameters, create ticket layouts and test them. The system also detects printing on paper and can be set up to print on pre-printed paper. The printer also has a sensor that monitors successful ticket ejection. Print speed is approximately 55mm/sec.