Eco Waste
Management System
---
It offers an efficient and commercially viable, eco-friendly, permanent solution to waste management. This new, state-of-the-art technology does not require any input energy source like fuel or electricity, to manage the waste.
EWMS Technology is flexible in handling different types of waste. In the Philippines, the technology will be used to process residual municipal solid waste in compliance with Republic Act (RA) 9003. It also has the capacity to process bulky wastes such as used tires, PET bottles, plastic bags and Styrofoam.
HOW ECO

WASTE MANAGEMENT SYSTEM

WORKS?
Waste has to be fed into the chamber of the equipment on uniform intervals. During the commissioning process an initial start ignition is done by using camphor/dry-wood and destruction starts slowly by splitting the molecules into atoms. Further ionization of atoms into electrons, protons and neutrons is called "ionization state". Acceleration of electrons creates a strong energy which increases and maintains the heat in the chamber.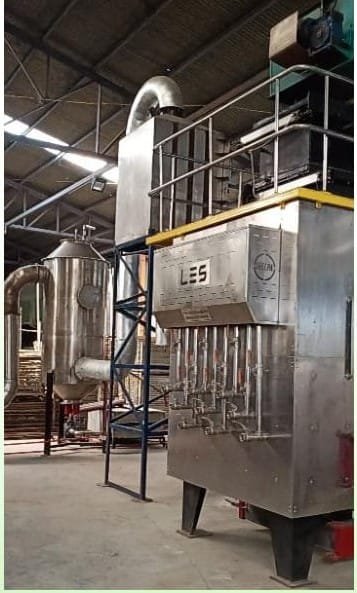 On the other side a small amount of atmospheric air is allowed to pass through strong magnetic field into the oxygen starved chamber. During this operation oxygen molecule split into elemental Oxygen with negative charge. This atomic oxygen is to oxidize perfectly organic surface and change organic matter to desperate organic oxide. Therefore reaction is induced by exothermic phenomenon, thermal condition around 200oC is needed  to accelerate reaction which can be achieved by initial decomposition. 
From 200oC (by initial firing) to 500-1000oC in the equipment by magnetized  ionization, and thermal vibration will be achieved. The decomposition of waste takes place stack wise so that heat energy developed may not be continuous. At the bottom of the destruction chamber a tubular type radiator near the lower layer of the equipment where ash gets deposited and separated. The waste heat is recovered through a tubular heat sink arranged near the upper layer of the deposited ash of a hearth centre section of said decomposition chamber and said hearth periphery and the entire structure will have good potential for heat transfer. The waste heat is recovered and supplied back to the wet waste where the moisture content is reduced phenomenally. The flue gas emission from the decomposition chamber is released with induced draft. The emission may contain some toxic components like dioxin and furan, heavy metals, nitrogen oxides, etc., which is treated through 3 stage wet scrubber and activated carbon filters to contain and bring the emissions under the prescribed norms.
---
NO ELECTRICITY, NO FUEL, NO BURNING,
SELF-SUSTAINING

PROCESS AT MAGNETIZED STATE

SMALL FOOTPRINT

MALL FOOTPRINT

US TECHNOLOGY

AVOIDS LANDFILLING AND DUMP YARDS.

LOW COST & LESS MAINTENANCE

ENVIRONMENT FRIENDLY

MOBILITY
De-Centralizes handling of waste
Reduces Transportation Costs
Avoids Open Burning of Garbage
Reduces burden on Landfills
Phases Out Landfills with Zero Waste
Saves the Environment from Air, Soil,
Ground Water Pollution.
Waste Paper
Food Waste
Plastic Waste
Tubes & Tires
Municipal Waste
HospitalWaste (Special Machine)