Centrex Inliner
The Centrex is a square, inline, duct-mounted fan used to supply return or exhaust air for general HVAC systems. Centrex is available in direct-drive and belt-drive models.
Domex Exhaust Fan
Domex is a roof-mounted, down blast fan made of spun aluminum. Available in direct-drive and belt-drive, Domex fans are used for exhaust applications for schools, churches and office buildings.
Dynamo
These heavy-gauge, galvanized-steel utility blowers can be roof-mounted, floor-mounted or used inline with other fans. Dynamo is designed for commercial kitchen and fume exhaust applications and for building pressurization and providing fresh air.
Fumex Exhaust Fan
Fumex is a roof-mounted up blast fan made of spun aluminum. Fumex fans are available in direct-drive and belt-drive models and are ideal for use in commercial kitchens and applications where the exhaust of contaminants is required.
Jet fan
Removes hot or damp air. Jet fans are usually mounted in tunnels or parking structures.
Linear diffuser
Linear diffusers are used on both all-air and air-water HVAC systems, as part of room air distribution subsystems.
Muffan
The Muffan replaces foul or contaminated air removed by a building's exhaust system.
REX fan
REX, or Centrex Jr., is an in-line, duct-mounted, direct-drive fan designed for applications such as dryer boosters and humid air exhaust systems.
Sand trap louver
Sand trap louvers are mount to the intake side of an HVAC system, designed to remove sand from incoming air.
Zephyr Fan
Zephyr is a direct-drive, low-noise exhaust fan designed for ceiling or inline mounting. Zephyr is ideal for general exhaust for laboratories, conference rooms and institutions.
Twin fan
Dual-fan cooling system for cooling heat transfer devices.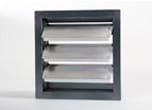 Wall shutter
Wall shutters are mounted to exhaust fans and designed to prevent air backflow when the fan is off. These efficient units come in direct-drive and belt-driven models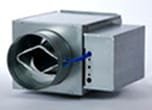 Variable Air Volume Box / Air Terminal Unit
A VAV terminal unit, often called a VAV box, is a zone-level flow control device. It is a calibrated air damper with an automatic actuator. The VAV terminal unit is connected to either a local or a central control system. Historically, pneumatic control was commonplace, but electronic direct digital control systems are popular especially for mid-to-large size applications. Hybrid control, for example having pneumatic actuators with digital data collection, is popular as well.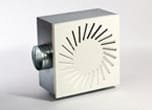 Square diffuser with plenum box
The square diffuser with plenum box is designed to disperse incoming air throughout a room or space.